Profile

speakveryclearly's Journal
Free Account
Created on 2011-12-31 22:53:04 (#1350846), last updated 2014-08-18 (161 weeks ago)
796 comments received, 13,054 comments posted
28 Journal Entries, 2 Tags, 0 Memories, 100 Icons

About
| | |
| --- | --- |
| Name: | Kanaya Maryam |
| Birthdate: | Aug 26 |
| | |
| | |

Mini Bio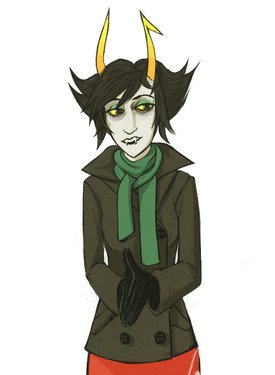 Young woman, non-human being, equivalent age 14-18, probably 15-16. Intelligent, loyal. Says that some consider the Initiative to be their saviors, and that they are indebted to them, heavily implying herself to be among that number. As a non-human, capable of feats beyond those of ordinary humans. Not alive in the traditional sense; likely difficult if not impossible to kill because of this. Likely not the person to bet against in a physical altercation. Not well versed in Earth, its history, or its justice/morality/mores. As a result, may be more willing to commit acts humans would otherwise deem distasteful or impossible.
And If Not Me Then Who
Everyone Has An Important Job To Do
Sister journal to

tendtoenunciate
with the fondest of commissioned artistic debt owed to
deadling
.

Connect
auspisticism
,
blood
,
chainsaws
, ditr,
dresses
,
eyeshadow
,
fashion
, forbidden passion,
gardening
,
girls
,
kismesissitude
,
lipstick
,
makeup
,
matespritship
,
moirallegiance
,
nail polish
, not the alpha timeline, not the veil,
rainbow drinkers
,
sewing
,
shadow droppers
,
shoes
,
shotguns
,
the initiative
,
topiary
,
twilight

People
[View Entries]

Communities
[View entries]

Member Of (14):
apartmental
,
curtaincalls
,
dear_mun
,
ditr
,
dr_eambubbl_e
,
dramaticshitinlatin
,
exsilium
,
exsiliumlogs
,
exsiliumooc
,
girlsinspace
,
huntersgame
,
lesbianseagull
,
murdermanor
,
preyers

Subscriptions (14):
apartmental
,
ditr
,
dr_eambubbl_e
,
dramaticshitinlatin
,
dw_maintenance
,
dw_news
,
exsilium
,
exsiliumlogs
,
exsiliumooc
,
girlsinspace
,
huntersgame
,
lesbianseagull
,
murdermanor
,
preyers

Administrator Of (2):

Feeds
[View Entries]

Subscriptions (0)

Linking
To link to this user, copy this code:
On Dreamwidth:
Elsewhere: